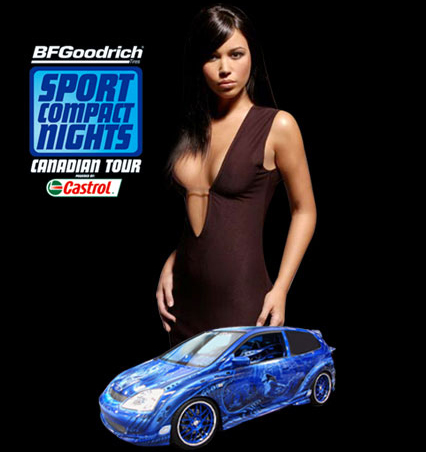 SCN 04 CANADIAN TOUR
Haligonians are probably the best example of true Canadians in the country. Theyre super friendly, drink beer like champions, say funny things like, sociable and above all, are passionate about their sport compacts. SCN Halifax is the ultimate opportunity for Maritimers to represent their Atlantic, east coast car culture in a transformed Exhibition Park venue.

With such a tremendous response at last years SCN, we at Team SCP now know what to expect and are ready to turn it up a few notches. Expect more of everything as the BF Goodrich Sport Compact Nights Tour gears up to be going, going, back, back, to Hali, Hali!

Title Sponsor

Presenting Sponsor
Platinum Sponsors
Supporting Sponsors






Best Civic HB '88-'95
Best Civic HB '96+up
Best Civic Coupe
Best Civic 4dr/Acura EL
Best Honda other
Best Integra/RSX
Best Del Sol/CRX
Best Ford Focus
Best Ford Mustang
Best J-Body
Best Domestic Other
Bets Neon
Best VW Golf
Best VW Jetta

click here for a complete category listing



HOTELS need a place to stay during SCN?

Future Inn Halifax
Future Inns Halifax is conveniently located by car on the edge of the city in Clayton Park West. It is 20 minutes from the Halifax Airport, and can be seen and reached directly off Highway 102, Exit 2A onto Lacewood Drive, with plenty of free parking.


30 Fairfax Dr
Halifax,NS
B3S1P1

1-866-244-4333


*simply mention Sport Compact Nights to enjoy our discount.




Last Years

SPORT COMPACT NIGHTS : HALIFAX
Highlights of the show included Streetglows re-vamped WRX...

Story by : Patrick Alcancia Photo : Amee Reehal From SCN


[Saturday June 28th 2003]

Throwing a sport compact car show like Sport Compact Nights in a city thats never had one has both its advantages and disadvantages.

Throwing a sport compact car show like Sport Compact Nights in a city thats never had one has both its advantages and disadvantages. On one hand, if the show goes well, you can take pride in saying you have tried and succeeded at doing something that has never been done before. On the other hand, if the show fails, you risk being run out of town and ruining any possibility of hosting a show in this uncharted territory ever again. Or at least until the locals forget just how bad the show was. Overall, just not the sociable thing to do. After coming off a successful launch of the tour in Montreal, the bar had been set and the desire to carry that momentum from Montreal over to Halifax was paramount.

Thanks to careful planning,preparation and a ton of help from Elliott LeBlanc of LowMotion.org and Xtreme Motorsports Lenny Boudreau, the Halifax edition of the BFGoodrich Sport Compact Nights National Tour might just go down as the greatest Team SCP production ever. Despite a change of date and the Nickelback concert one night before, the public showed up in droves, as did some of Atlantic Canadas finest sport compact cars, some from as far as Prince Edward Island.

From start to finish, Sport Compact Nights provided show-goers with a high-octane, high-energy event, keeping the public entertained throughout the day with breakers, live DJs spinning back and forth on Pioneers new CJD1000s, all the while holding product giveaways at sponsors booths and onstage. The publics lust for beautiful cars, beautiful women, courtesy of TYC Elegante and free stuff kept Exhibition Park filled to capacity as the lineup at the ticket booths reached deep into the venue parking lot right through till closing time.

| | |
| --- | --- |
| | |




Highlights of the show included Streetglows re-vamped Subaru WRX with maxed out lighting and Spider-Man themed sound system. Chris Nankoos lowrider truck stopped spectators in their tracks at the SportCompact.ca booth.(Actually, the lovely Kymberly Mei probably had a lot to do with that too!) BF Goodrich featured Atlantic Canadas top vehicle, Serge Legers chameleoned-out turbo Teg from the lobster capital of Canada, Shediac. However, the surprise of the show must have been New Brunswicks Xtreme Motorsport orange H22A swapped, turbocharged Integra who took home top honours as Best of Show.

The second stop on the BFGoodrich Sport Compact Nights National Tour went down on June 29 at Halifaxs Exhibition Park and as you can tell from the pics, it was some awesome. It looks like we may need to expand to another city in the Maritimes for next years tour, Moncton perhaps? In any case, Maritimers proved that they could hang with the best and that sport compact fever is alive and well, even in Nova Scotia. In 2004, Team SCP will definitely be going, going, back, back, to Hali, Hali! See you all in Calgary for part 3 of the Sport Compact Nights Tour!